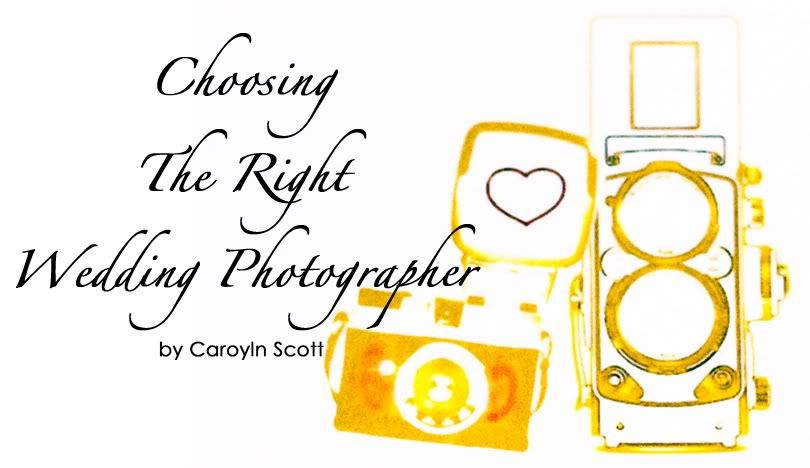 Today we have our first photography segment on the blog by guest writer, Carolyn Scott. We are lucky enough to be working with the talented Raleigh wedding photographer, and this month she has put together for us a list of eight tips to help you choose the right photographer for your big day and other important photography elements to consider.

1. Two main things to choose your photographer based on:

a.) A thorough examination of their portfolio and blog. Visit their portfolio (if they have one) first. These are the pictures that your photographer likes the best. If you don't jive with their general vision, it's not going to be a good match. Photographers have a style that they prefer to shoot in. If they're creative and you ask them to shoot your wedding in a traditional style, your photographer won't be doing what their best art and you may not be happy with the results. Make sure the pictures that they like the best (the ones in their portfolio) are the types of pictures that you'd like to have for your wedding. After you've established that, visit their blog. This is going to give you a much larger sample of their work. You may find that you're even more in love with them, or that you dislike how they photograph receptions, or that they've even improved since updating their portfolio.

b.) Photographers have different styles, and they also have different personalities. Your wedding photographer will probably be the person you spend most of your wedding day with. It is imperative that you like that person and really, truly, get along. If you're on the same wavelength, you are probably going to be super happy with not only your pictures, but your general treatment throughout the time period of wedding planning and post-wedding picture delivery. Are they going to make you relaxed or nervous? Are they a take-charge type of photographer, or are they the type who asks you for direction, and more importantly – which type do you want? Can you see yourself spending a 10-hour day with this person without wanting to yell/scream/cry?

2. Four main issues to specify in your wedding photography contract:

a. What happens in the event of an emergency and your photographer cannot make it to your wedding?
b. What happens if the film and/or digital negatives get destroyed before I've received my pictures?
c. What are the copyright/personal use details?
d. What are the deposit/payment details?

3. The best ways to get your images afterward:

a. All photographers handle this part of the process differently, and how they handle it should be something discussed at the initial consultation to ensure that their way of doing business is in accordance with how you'd like to receive your images. The most popular ways include: an online gallery, DVD delivery, USB delivery, and direct download. Some photographers don't include all of the images and you must purchase them afterward via an online gallery or a screening at the photographer's office or studio.

4. What elements to ask your photographer to please photograph:

a. A good photographer won't need to be asked to photograph certain details or people in your wedding. However, if there is something that you specifically worked very hard on or a certain relative that isn't included in formal portraits that you'd like a picture of, make sure that you express this to your photographer prior to the wedding, so they can make this element a priority.

5. How much time should be allotted for portraits and when is it best to take these (before or after the ceremony or on a different day)?

a. All photographers find that different time periods work best for them, and there are about a million ways to do this! Personally, I find that taking all of the photographs before the ceremony saves a lot of time, stress, and money (you won't need to have a cocktail hour). I often find that taking the photographs after the wedding causes couples to get antsy about going to the reception, so they can't pay attention to each other because they're uncomfortable having their guests waiting for them. Taking the pictures on a different day allows you more time, but not all photographers will do this free of charge as a different day requires a day out of their editing and/or shooting schedule.

6. What's the best time of day for a wedding for the best photography?

a. This depends on the location and whether or not you're doing the pictures before or after the ceremony. It also depends on the strengths/weaknesses of your photographer. Generally speaking and in my opinion, if the ceremony is outside with no shade, you'd like the ceremony to be held directly before sunset (with all pictures taken prior to the ceremony). At that time of day, there is a very beautiful, even light. During the direct sunlight part of the day, there will be a lot of harsh shadows under everyone's faces, a very intense difference between areas of sun and areas of shadow, and a lot of unflattering squinting. If the ceremony is outside in an area with plenty of shade, you could have it early, but I'd advise that the closer you are to sunset and the farther away you are from high noon, the better your pictures will turn out. I advise on visiting the ceremony site at the time of day you're planning on having the ceremony and observe where the sun is.

7. What is a reasonable amount of time to wait in order to get our pictures back?

a. This very much depends on the workflow, schedule, and demand of your photographer. It also depends on the season you're getting married in. If you're getting married in January, you may have your pictures back in a week. If you're getting married in August, you may have your pictures back in a few months. Some photographers are busier than others, and some photographers can get things done faster than others despite their demand. In general, I'd say it's very reasonable to wait anywhere from 1-3 months. That being said, your photographer should have a general idea on your wedding day of when the pictures should be completed. Don't be afraid to ask them or to ask that a time frame is outlined in your contract.

8. What is the fair amount to pay a photographer and what should I expect for the price?

a. Photography prices range anywhere from $500-$10,000+. Generally speaking, you get what you pay for. A full-time photographer who has been practicing for several years will charge from $2000-$8000. Despite common beliefs, photographers (and other wedding vendors) don't charge high prices just because they can. It's actually very formulaic for most professional vendors and includes the following overhead expenses and things you're paying for behind the scenes such as: Equipment, website services, advertising, cost of products, travel, accounting services, time spent on consultations and post-production, the actual time spent photographing the wedding, medical, liability and equipment insurance, membership to professional organizations, and more. Some photographers include the high-res pictures, an album, and several prints in their wedding packages. Others charge this for their shooting time and require clients to pay afterward. How much you spend usually reflects how much of a priority photography is to you. Some wedding couples spend 1/3 of their budget or more on photography, while others spend 1/8th of their budget. I'd recommend sitting down with your fiancé and discussing how important the photography is to you and coming up with a budget (and go on the hunt) shortly after you've secured a wedding date and venue.