A huge thank you to Carolyn Scott, the talented Raleigh wedding photographer, for sharing this feature with us!

We wish you an amazing new year!

Engagement Session Ideas by Carolyn Scott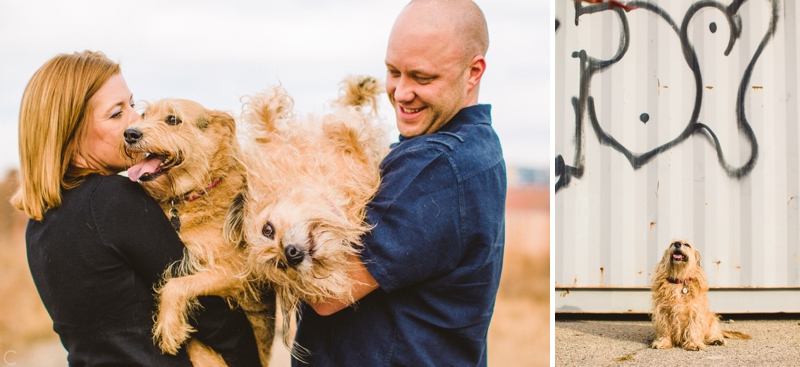 (photographs by Carolyn Scott)

Lots of clients approach me between their late October engagement and their spring wedding and lament the woes of having to take engagement pictures in the winter. I'm here to tell you that it's not so bad! You can definitely pick a spot and have engagement session pictures taken, but you can also plan an activity to base your photos around more candid looks. Here are engagement session location/recreation ideas for every season. ☺

Spring:

a. Flowers are in bloom! Why not take a walk to your local park or arboretum?

b. Get your pup out of the house and walk him around town. There's nothing cuter than dogs in engagement session pictures.

c. Have a garden? Travel with your honey to the local plant shop and bring your photographer to document you picking out the flowers. Then head back home to plant them (with your photog in tow) for some great shots!

d. Have a spring rainy day session by visiting a local park or city, bringing umbrellas and boots in tow.

e. Have a friend with old-time bikes? Take a ride around your 'hood' or local bike trail and bring your photographer along to document the action!

Summer:

a. Hit the beach, pool, or lake! Bring an old-time bathing suit, a few towels, some old fashion Cokes and have yourself a fun photo shoot with tons of candid images as you and your sweetheart splash around.

b. Have a cool hobby like boating or horseback riding? Take this sunny and warm opportunity to bring your photographer with you as you and your fiancé pursue your favorite activity.

c. Walk down to your local milkshake or ice cream shop and have a fun, summery engagement session.

d. Plan a fun camping themed engagement session by dragging out your old tent into the woods and setting it up! This gives a fun background and context for your photog to work with.

e. Have a day in the city with your sweetheart! Make sure to stop by some fountains or fun city water installations for fun summer shots!

Fall:

a. Hit up a park as the leaves are changing for a color background to your pictures!

b. Like pumpkins? Travel to the local pumpkin patch and have your photographer document the trip and the subsequent carving of the pumpkins!

c. Have a Halloween or fall themed engagement session by making a deal with a local farmer who has a nice corn field.

d. Spend the day at a winery and pack up your photographer to document the trip and take pictures of you and your fiancé in the hills.

e. Plan a trip to the zoo or aquarium with your photographer in tow to capture the day!

Winter:

a. Ice-skating never gets old this time of year and makes for nice outdoor portraits!

b. Stay home! What better place to document your life and love for each other than hanging around the house? Bake cookies or play a game for fun candid ideas in addition to portraits around your house.

c. Movie buffs? Plan a trip to a local theater and take some pictures inside.

d. Plan a date night to a funky restaurant you frequent and have your photog tag along!

e. Go skiing, tubing, or simply build a snowman in your yard on particularly snowy days. This provides for winter scenery as well as great interaction between you and your fiancé.

***NOTE: Make sure you ALWAYS ASK PERMISSION before going to any business to take pictures. Call ahead and tell them your plans to make sure they'll allow the photographs. More than likely, they'll be happy to help out, but occasionally they're not… and that's an awkward situation. So make sure you call ahead and ask!