Could you ever fathom making your own wedding dress? When I found out that Maggie Evan's not only made her own super chic and adorable wedding dress, but also created a convertible dress that could go from a full-length gown to a cocktail dress, I had to ask her more about it! And she was kind enough to not only share photographs from her real wedding with her sweetheart, Dylan, but to also answer some questions to help brides know what goes into making your own wedding dress. And as a wedding gown designer, she offers some really great tips I hope you'll enjoy!

The couple got married at a small local park called Foothills Community Park in North Boulder, Colorado. A huge thank you and congratulations to Maggie and Dylan! We wish you a lifetime of happiness!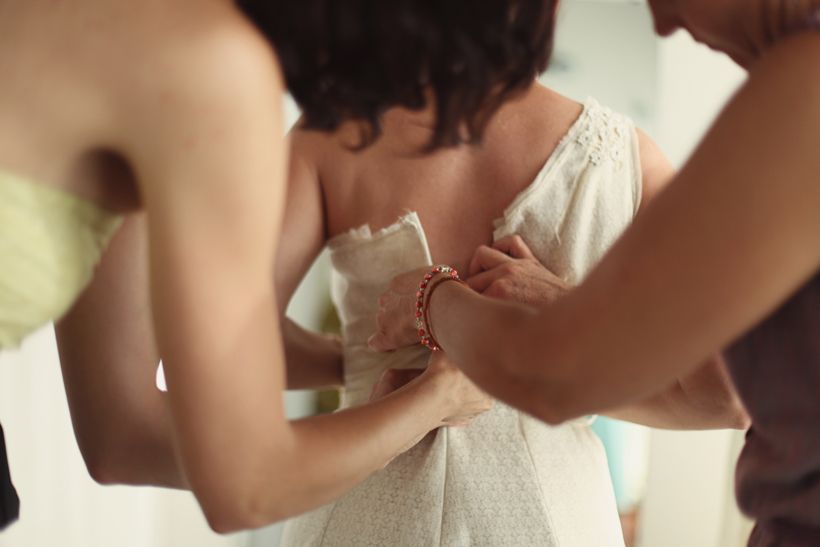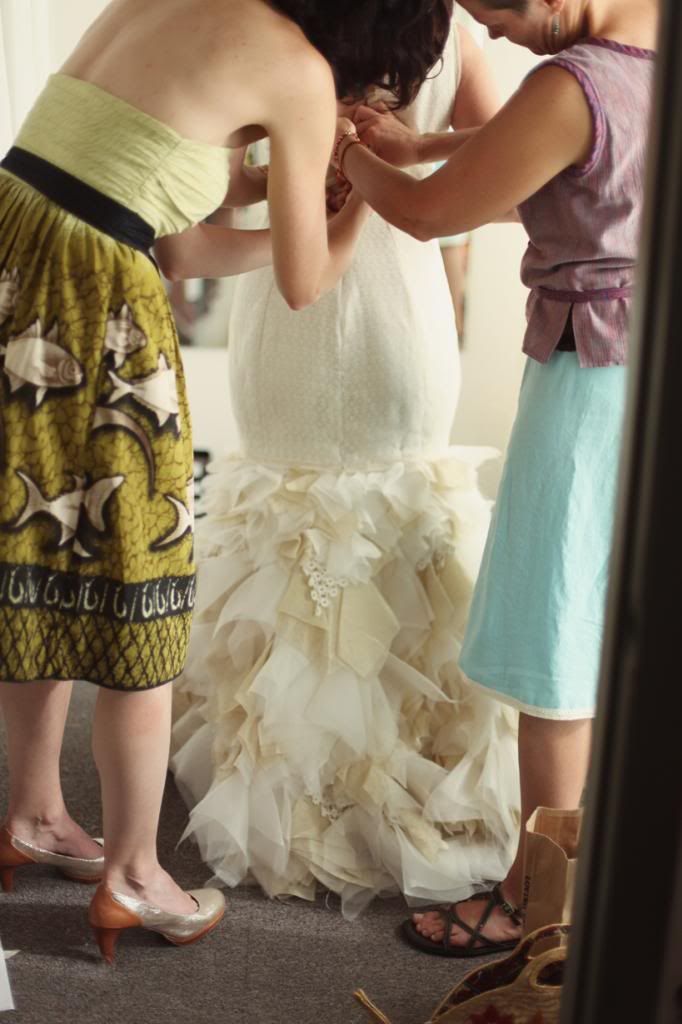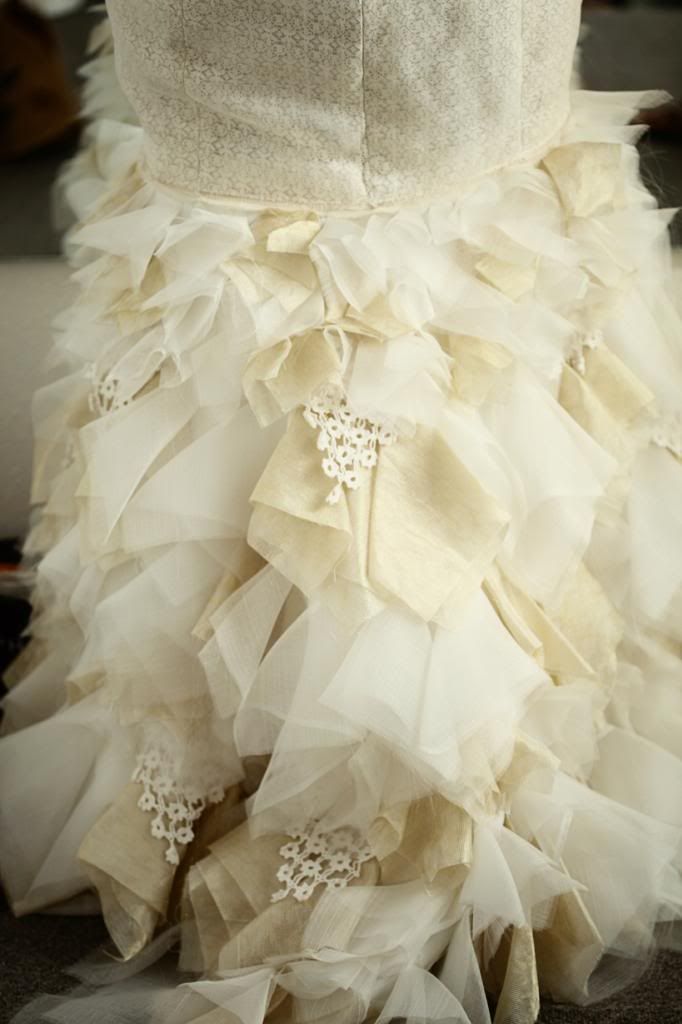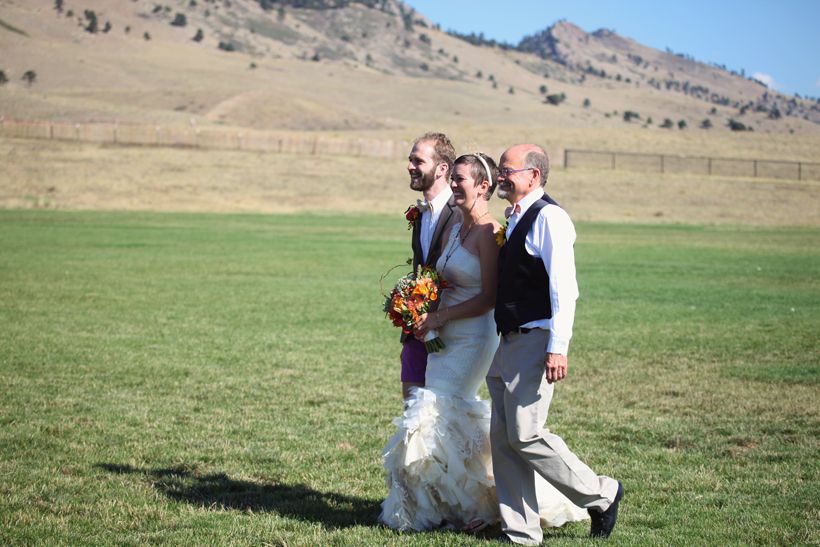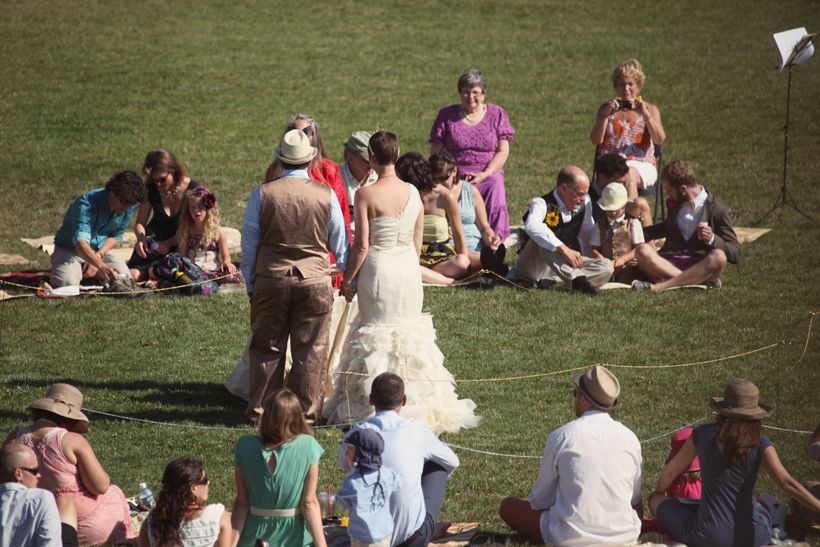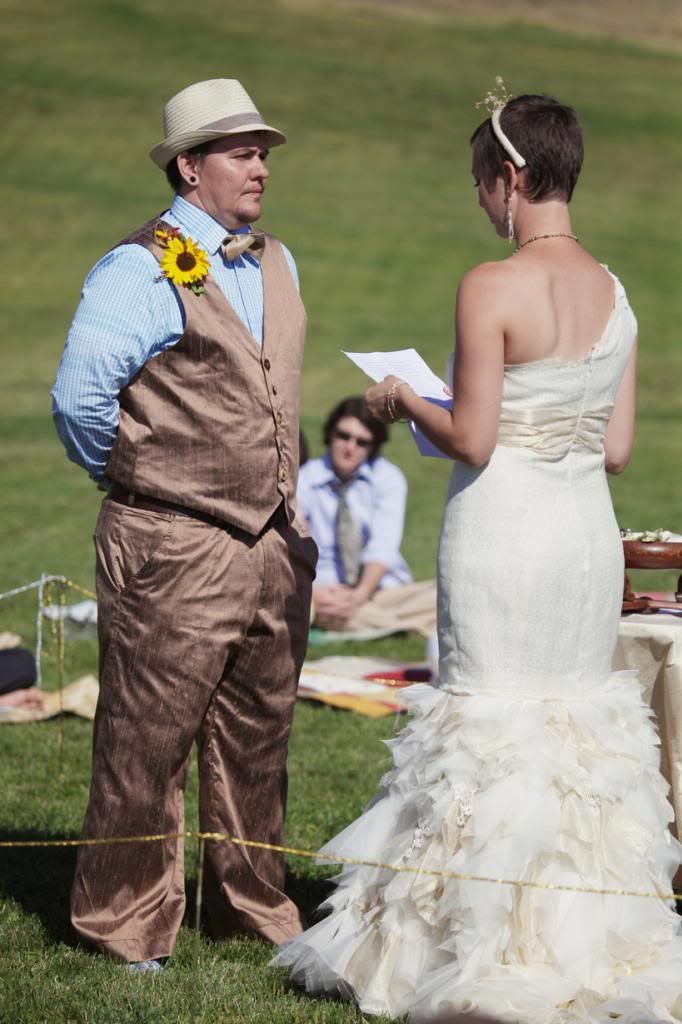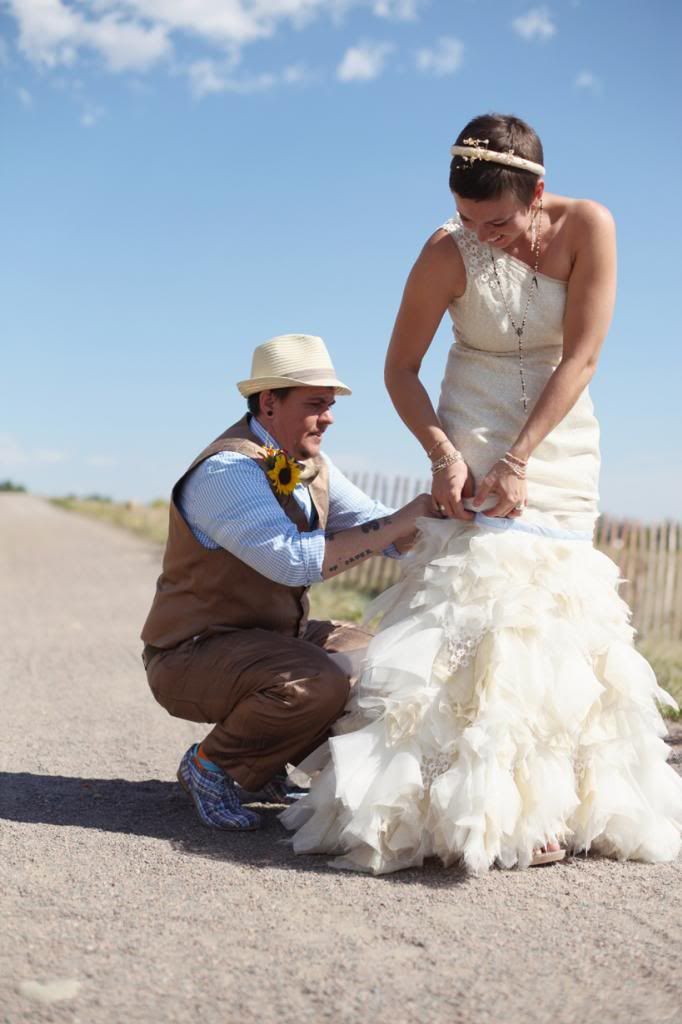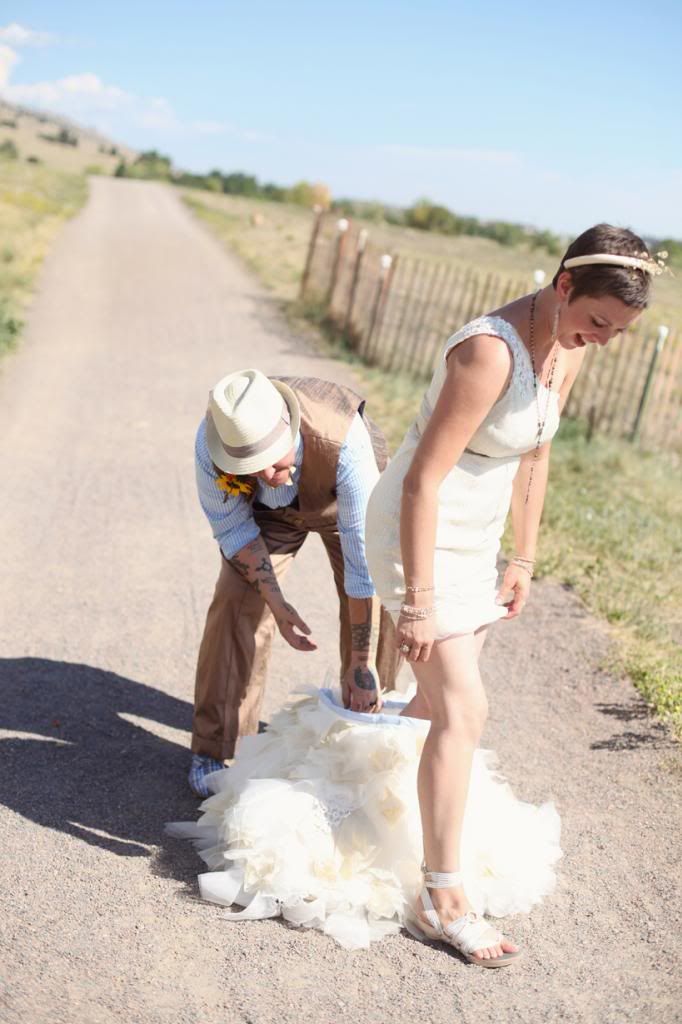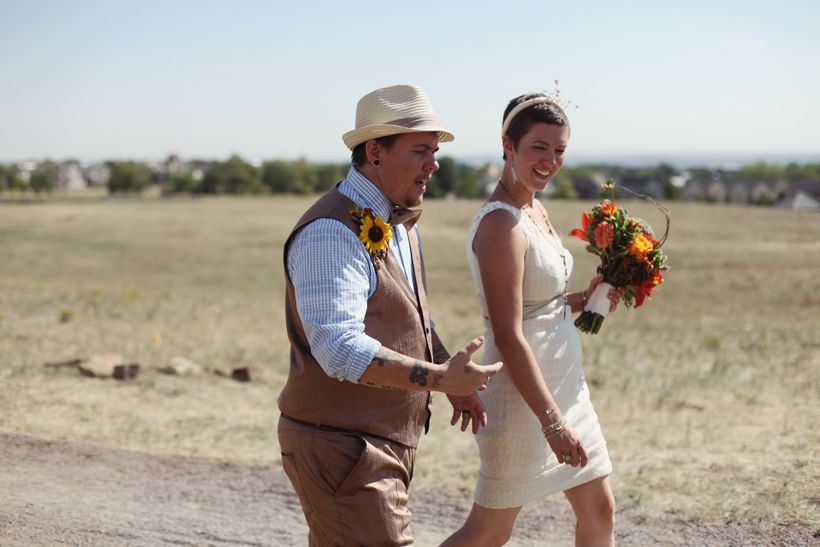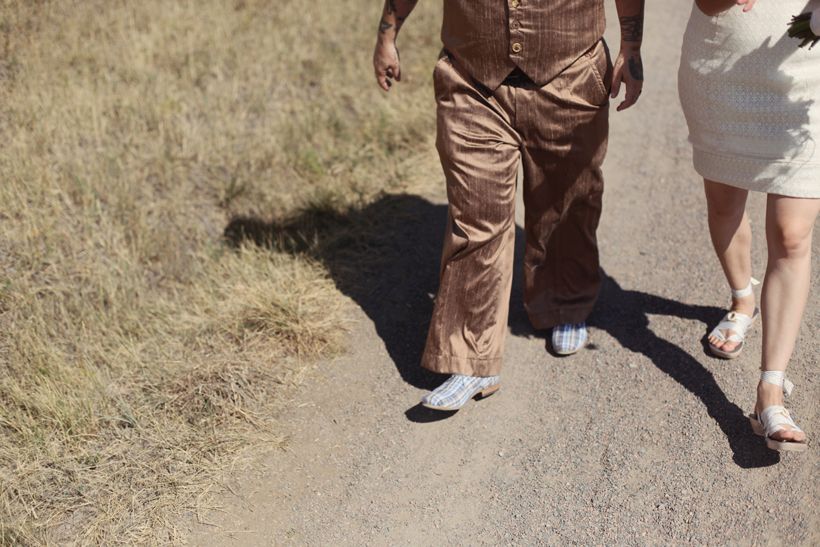 (photo credits: Caitlin Hamilton Photography)

So now that you've seen the photographs, what goes into making your own wedding dress? Here's what Maggie had to say:

1. Why did you choose to make your own wedding dress?

Gosh, that was something I dreamed about for years since I began making wedding gowns for a living. My ideas went through so many variations before I arrived at the convertible dress idea. I wanted a gown for the ceremony and a little short dress for the party. I made the dress so the full skirt buttons off to reveal a cute little cocktail dress.

2. What was important to you when designing it? What style would you say it is?

I would say my dress is modern, artsy, edgy and romantic. The two things that were really important to me were to be able to wear a comfortable bra and not fuss with keeping my dress up, and being able to wear the dress all day since we got married in the morning and celebrated all day.

3. What goes into making a wedding dress?

I think the first thing is to get clear on what is most important to you. Are you sure about fabrics? Are you sure you want strapless? Are you sure you want a short dress? Sometimes those are not as easy questions to answer. These are things I ask my brides when I make custom gowns. If I'm designing a dress for my shop I usually start with a fabric I really want to work with or a shape or dress detail I'm interested in exploring. When working with a bride, I always do at least one sketch, if not more. When I'm designing for my shop, I rarely sketch and just go where my inspiration leads me. The second thing is to make a muslin based on the sketch (that's a cotton mock-up of the dress design used for fitting purposes as well as making sure all the design lines and details are in the right places). The third part is to take the muslin apart, make a pattern from the muslin, and cut the whole dress out in the chosen fabrics. This is the biggest and most exciting step is when the dress goes from an idea on paper to the real deal. Everything after that is just tweeking, fitting, and finishing.

4. What was the most enjoyable part of it, what was the most difficult?

My favorite part was choosing the fabrics. Of course, I wanted the best and I wanted something no one else would have. I chose gold metallic silk as a main accent fabric along with a textured ivory silk organza and lace. All the edges remained raw and un-hemmed. I also used a very special handmade lace that a friend gave to me when I opened my shop. She found it in an antique shop in Hungary. I loved that part.

The most difficult part was fitting the dress on myself. I always have my brides sit down in their dress before I alter it to make sure it won't be too tight to sit in. I didn't do that for myself! So the dress ended up being pretty snug to sit in, but it sure looked good when I was standing!

5. Tell me a little bit about your business as a wedding dress designer. Why do you do it?

I love working with brides! I also have a background and master's degree in psychology, specifically art therapy. I have a great respect for marriage and planning a wedding. It's a huge right of passage and can be incredibly transformative. I see the wedding dress as a cocoon for that transformation, therefore the dress is so important to the process of getting married and I want to help facilitate a meaningful experience for the bride during the process of making her dress.

Interested in having Maggie design your wedding dress? Her wedding dress designs are available through Etsy and can be made in a variety of fabrics.

Or are you interested in making your own? If so, what inspires you?