I love small, intimate, weddings. Mix that in with a New York adventure, and that sums up the real wedding feature you're about to enjoy pretty well.

Thank you so much to Marty and Angélique for sharing your big day with us! We wish you a lifetime of happiness, laughter and adventure!

And thank you also to Angela Cappetta, the talented New York wedding photographer! It's always a pleasure to share your work.

From Angela:

Marty whisked away Angélique to NYC from their hecitc lives as actors in Toronto, to propose a year ago. It only seemed right that they tie the knot on 12/12/12 at the site of a very romantic post proposal meal of burgers and beer at their beloved Shake Shack. Yes, Shake Shack, not a venue one would immediately consider for a hip, urban couple. But these two rocked it. In the end, the whole shebang lasted about 90 minutes, but with the style and flair not even the Four Seasons could boast.

They had seven guests, immediate family only, and said their I do's by lamplight, right under the Shake Shack web cam, so their friends in Toronto could feel like they were right there. Included in the ceremony was a ceremonial sage smudging, with a sage stick Angélique made herself, to seal their union. Toasts after were made with "a bit of Canada" as Marty put it, with a bottle of a favorite Canadian Whiskey brought to NYC in their luggage just for the occasion.

Angélique's dress and Marty's suit were both bespoke, make lovingly by hand by a friend from their theater company's wardrobe department in Toronto; Hers was made from curtain fabric, and his sported a funky striped lining in which he was most fetching.

Angélique made their cake toppers herself, to represent not just the two of them, but their dog, Gertrude, and bunny, Lovely. The cake itself was a pear tart from Eataly, purchased across the street about 15 minutes before the wedding started. No surprise, it was delicious.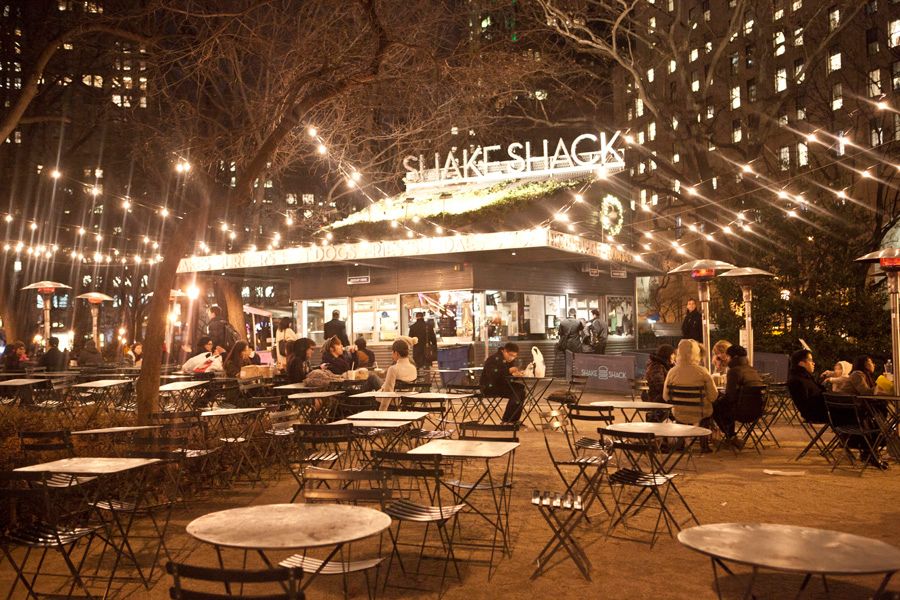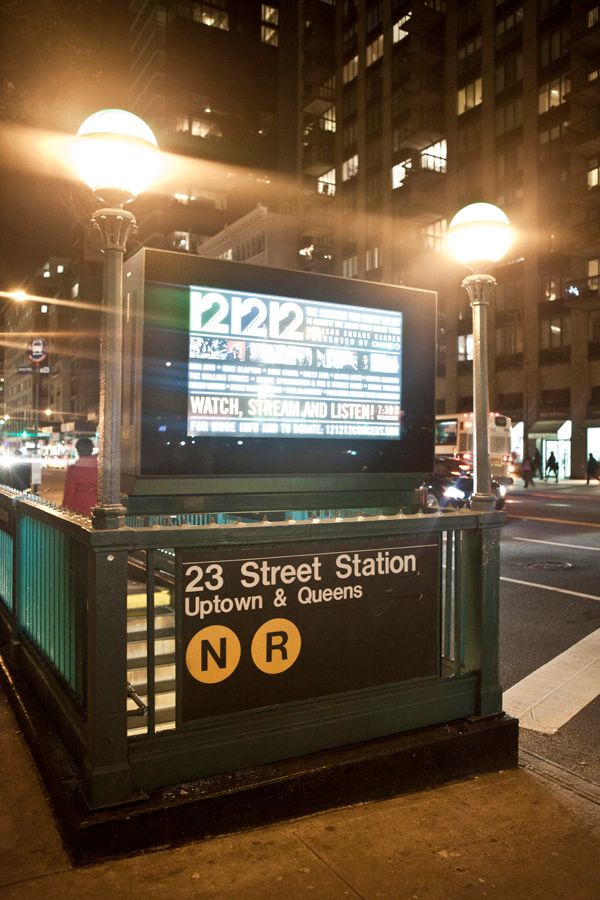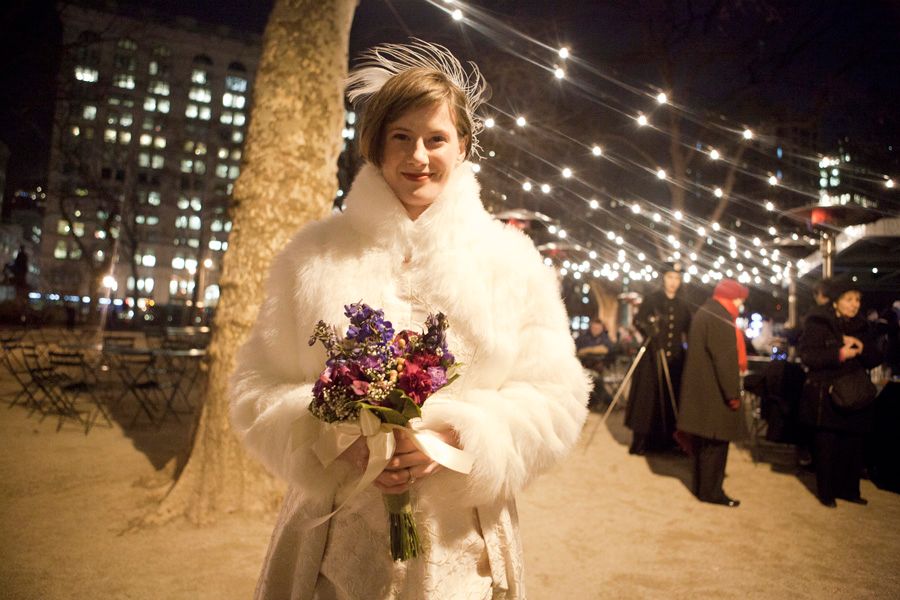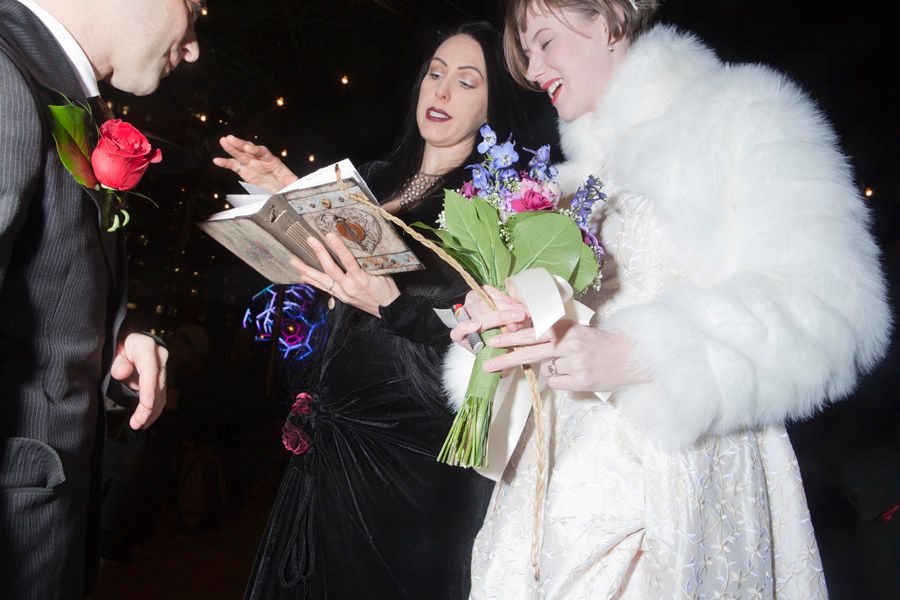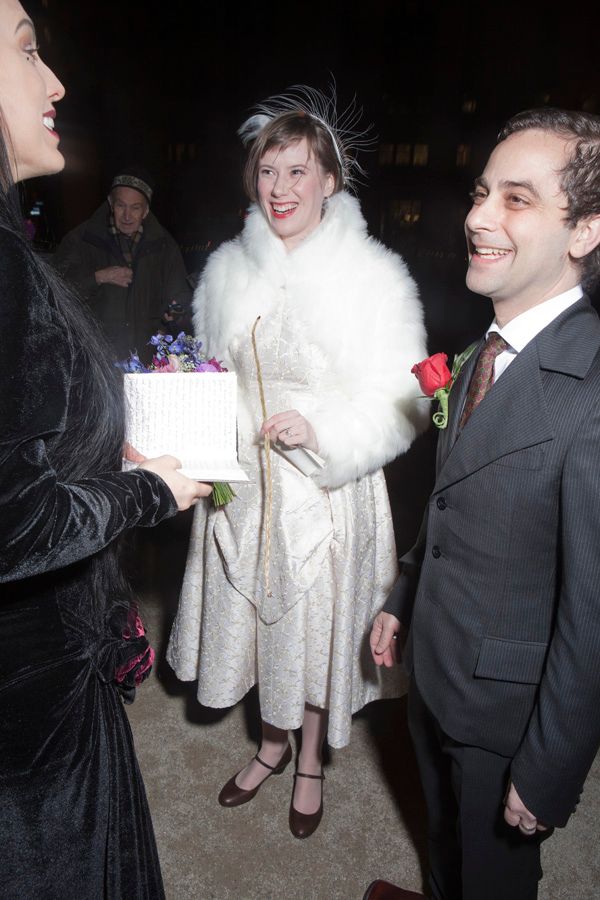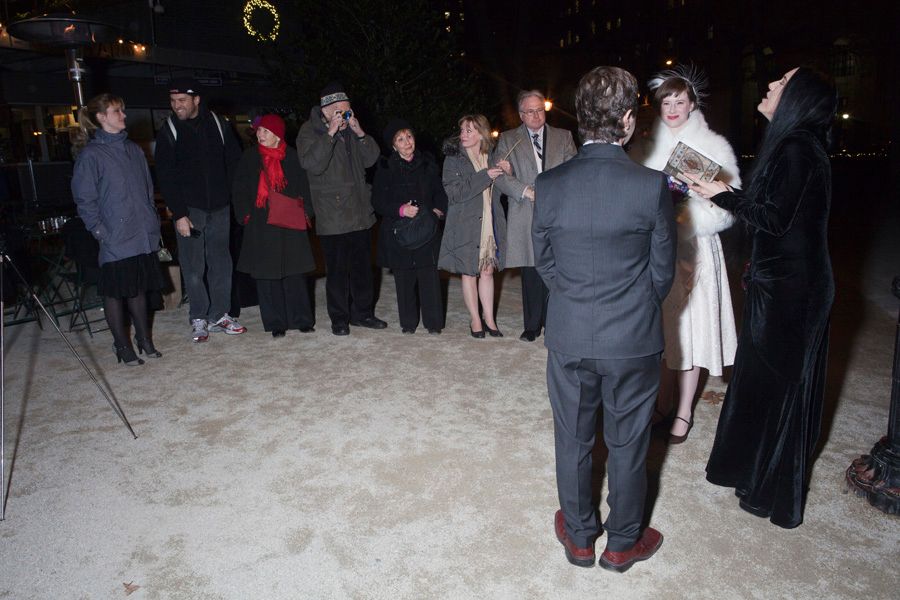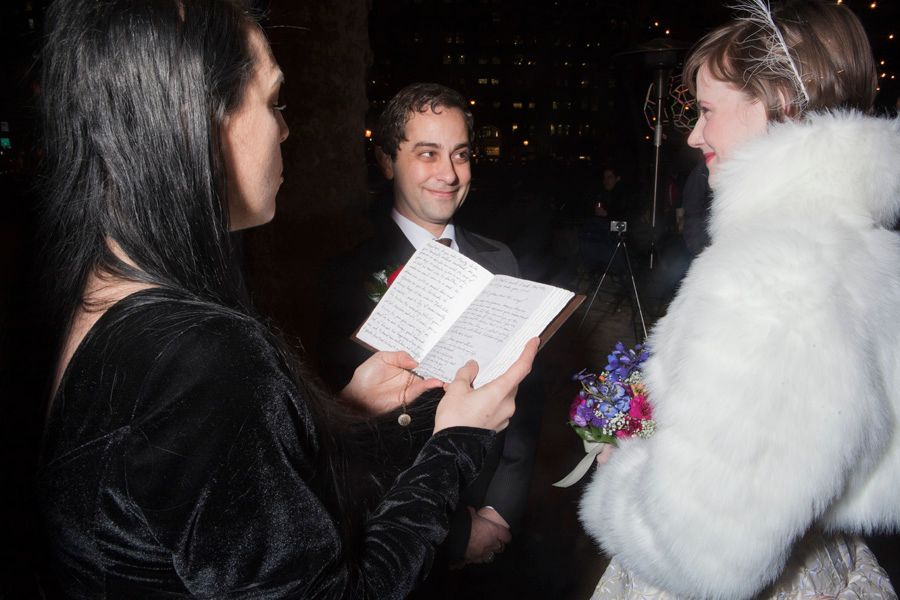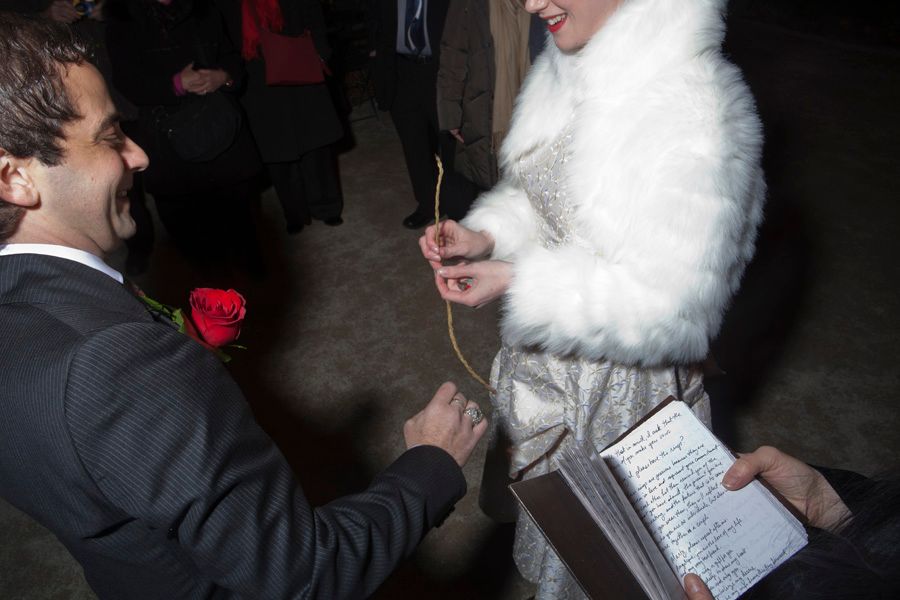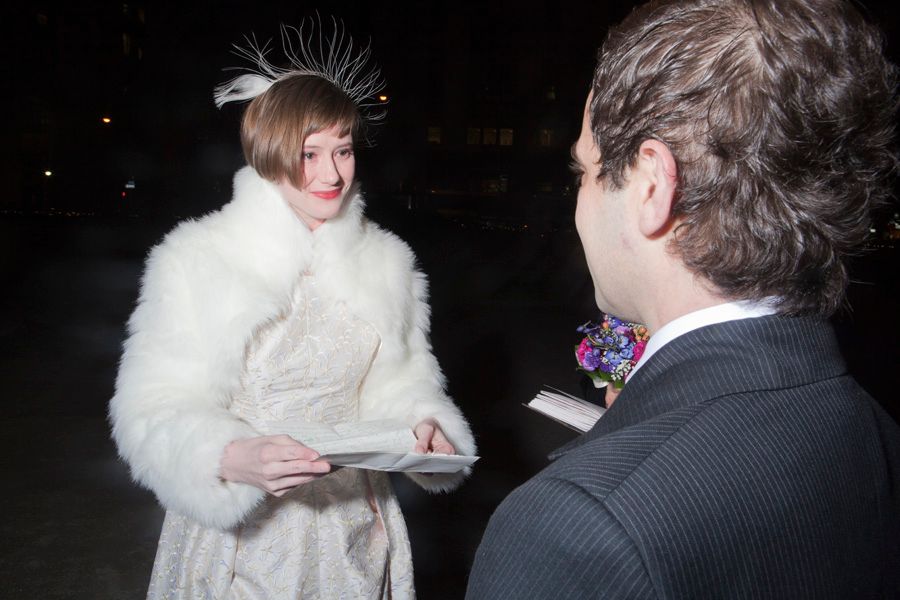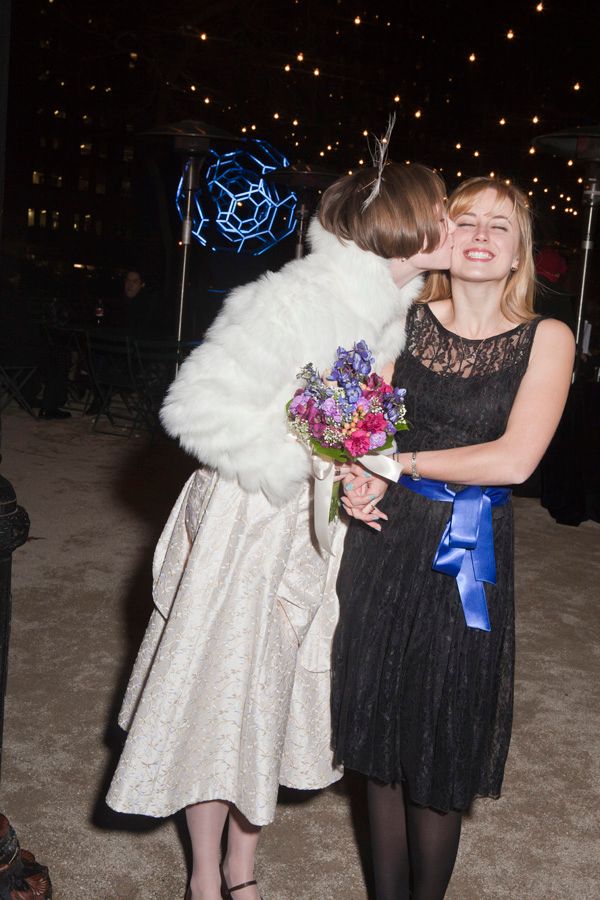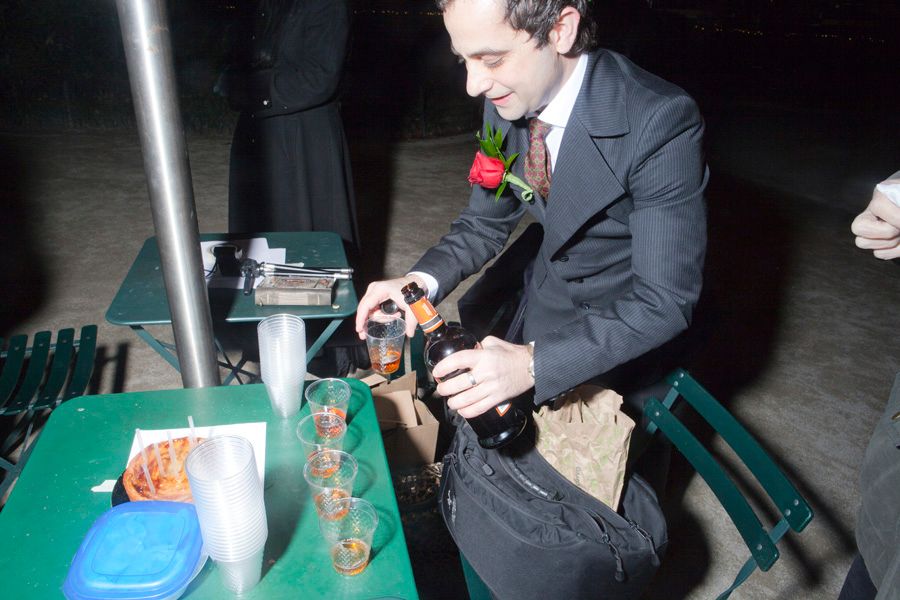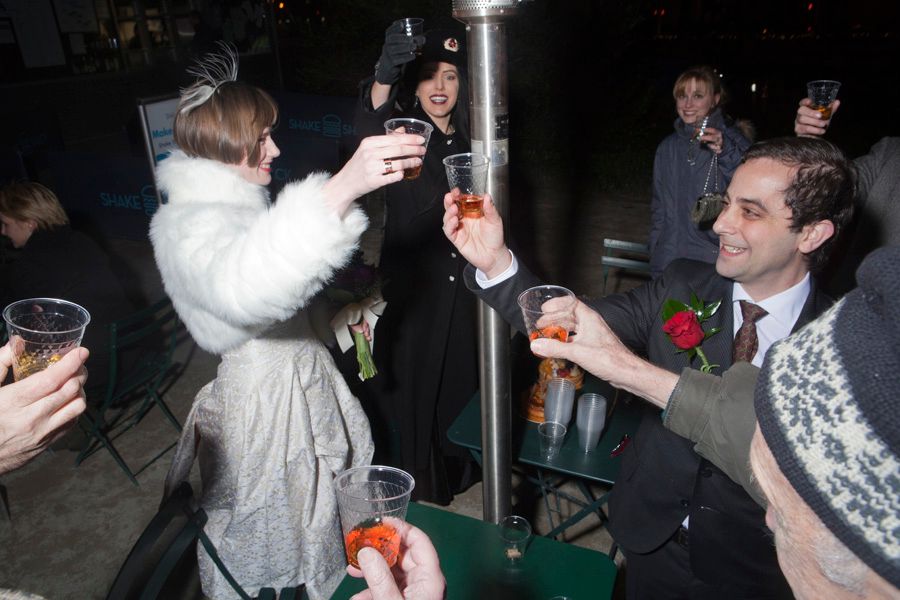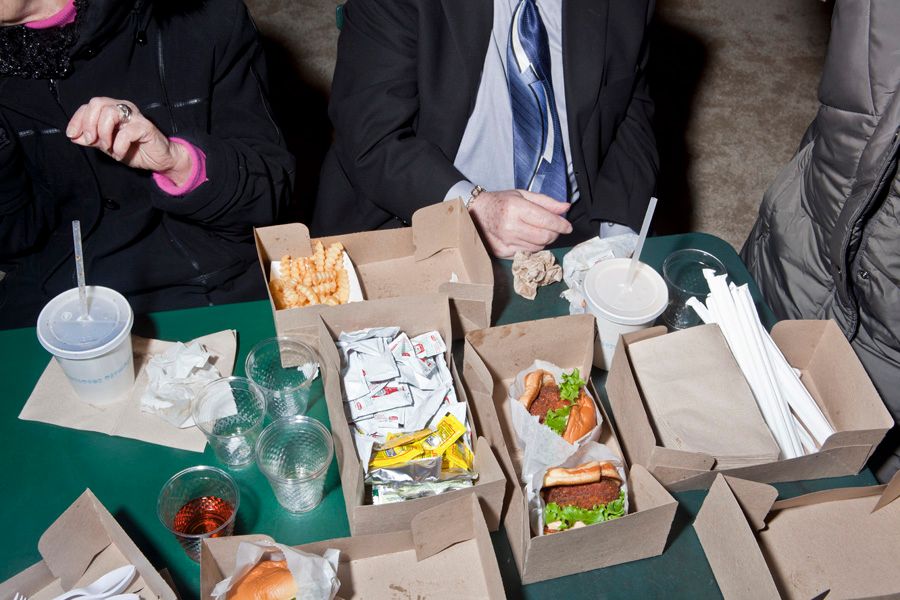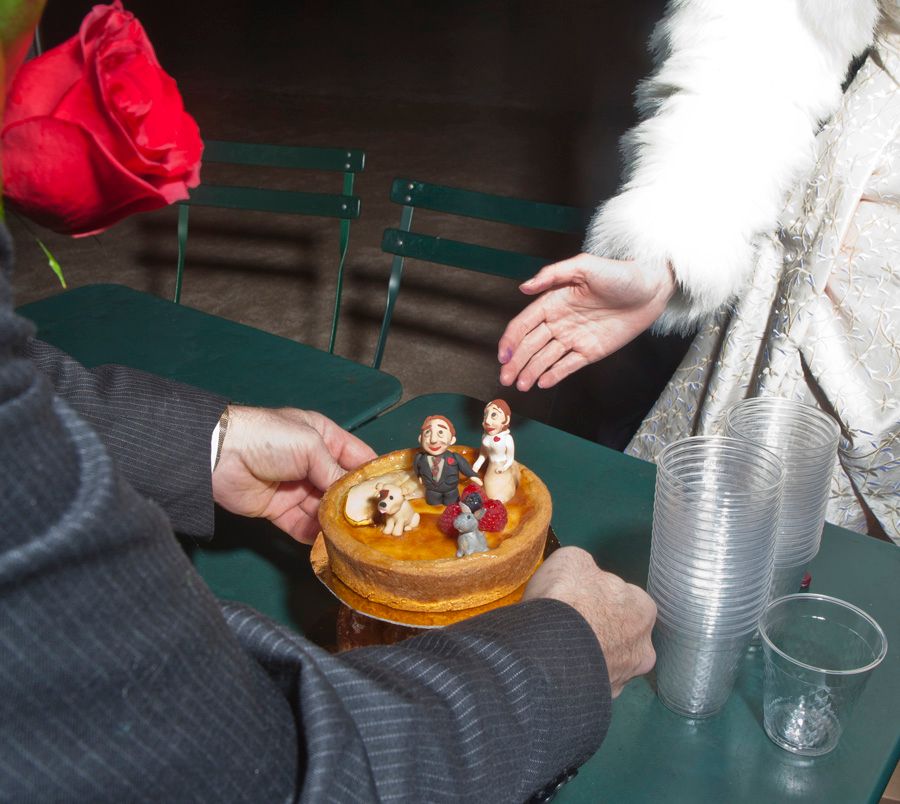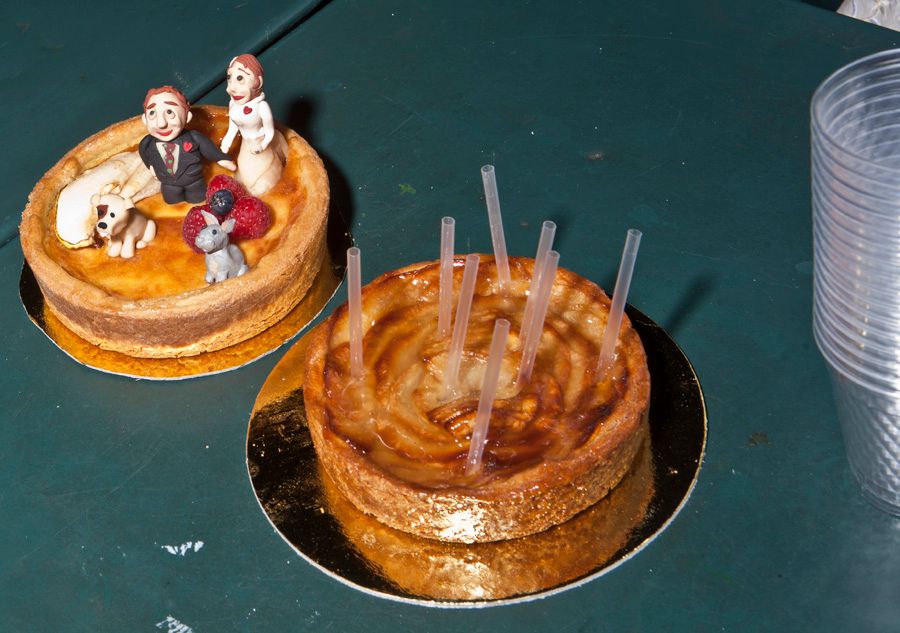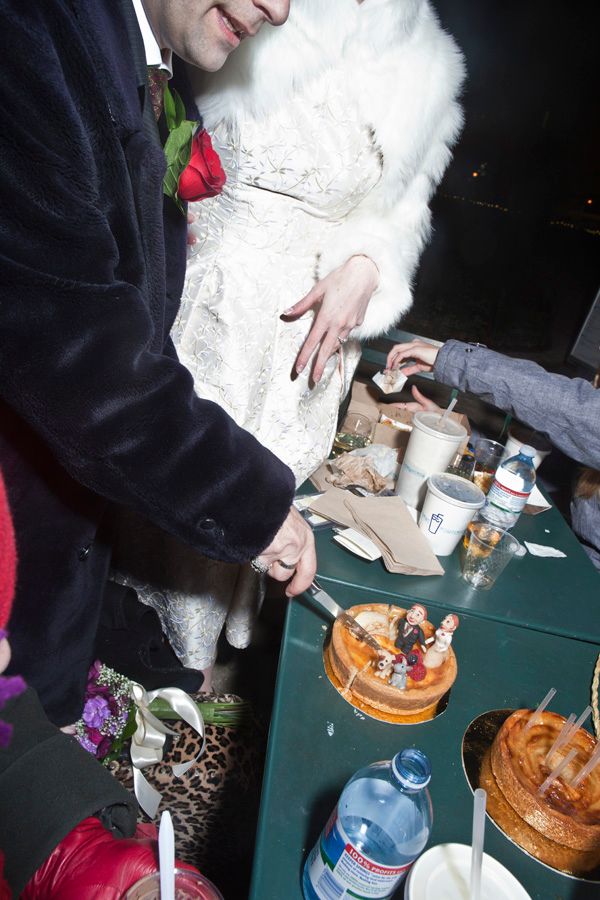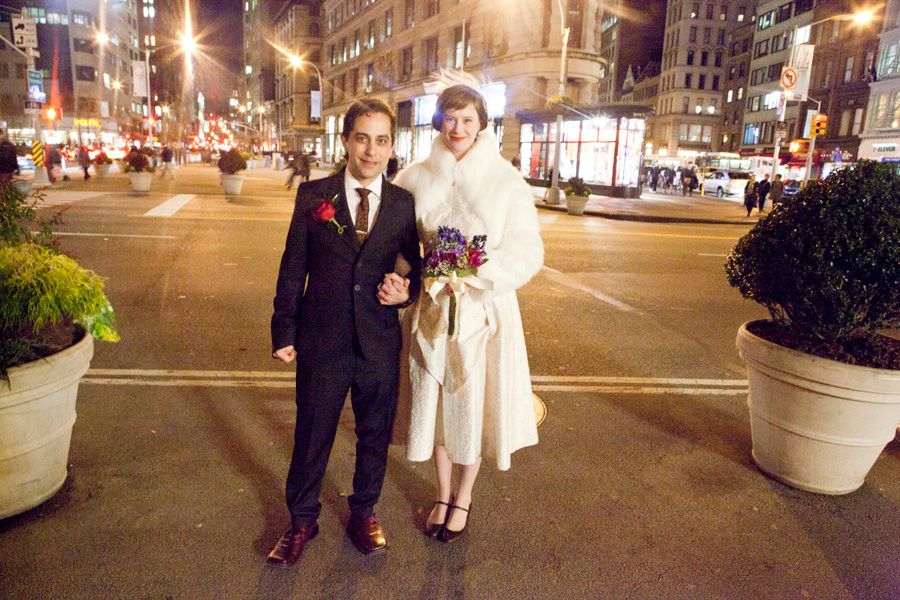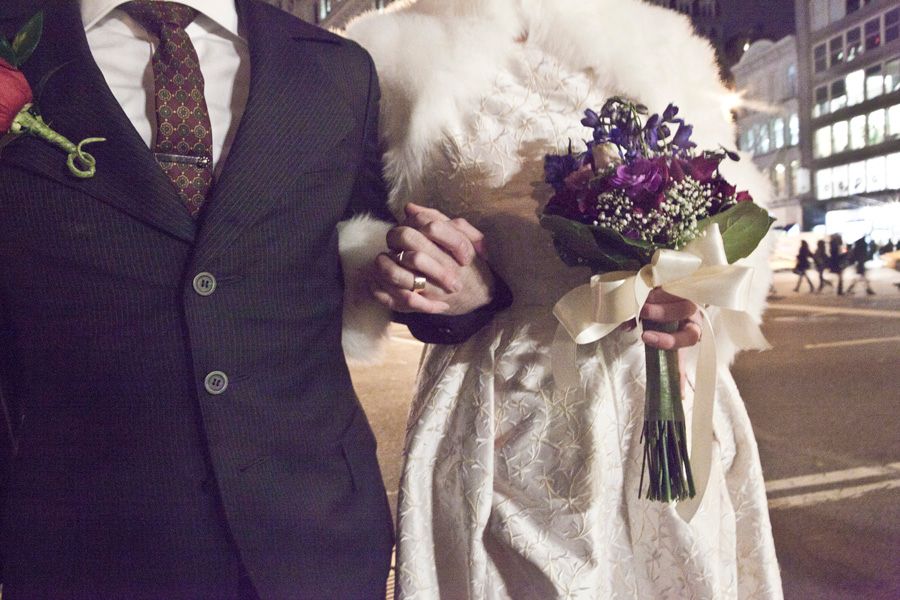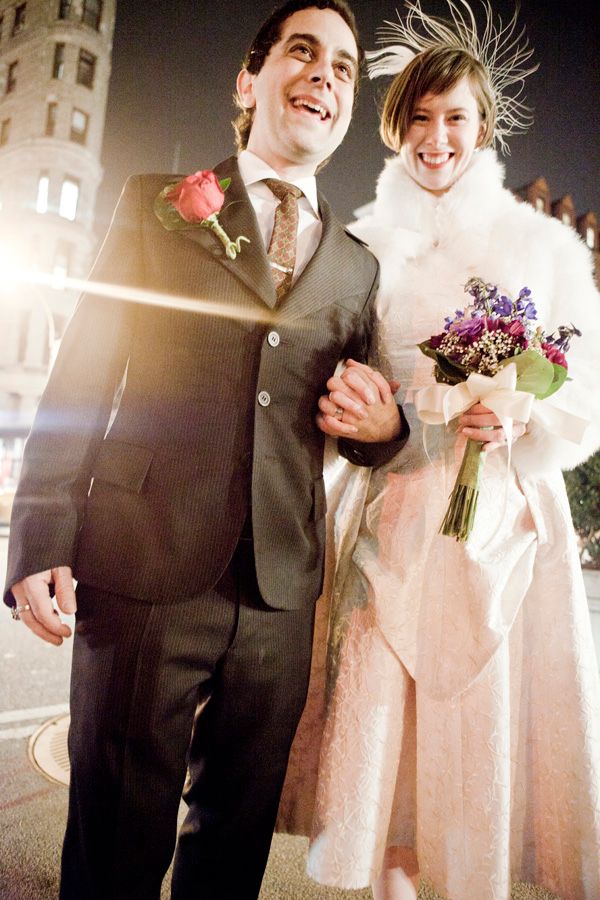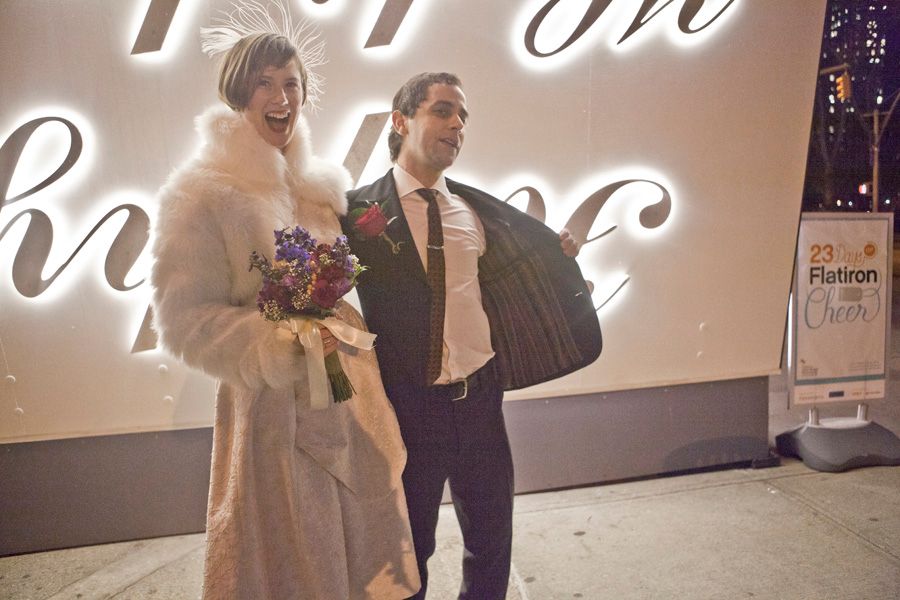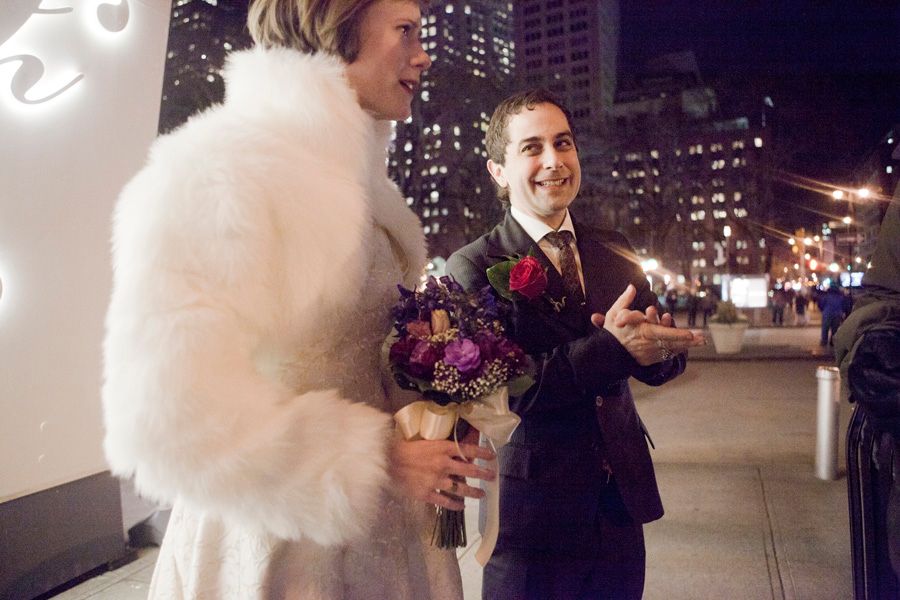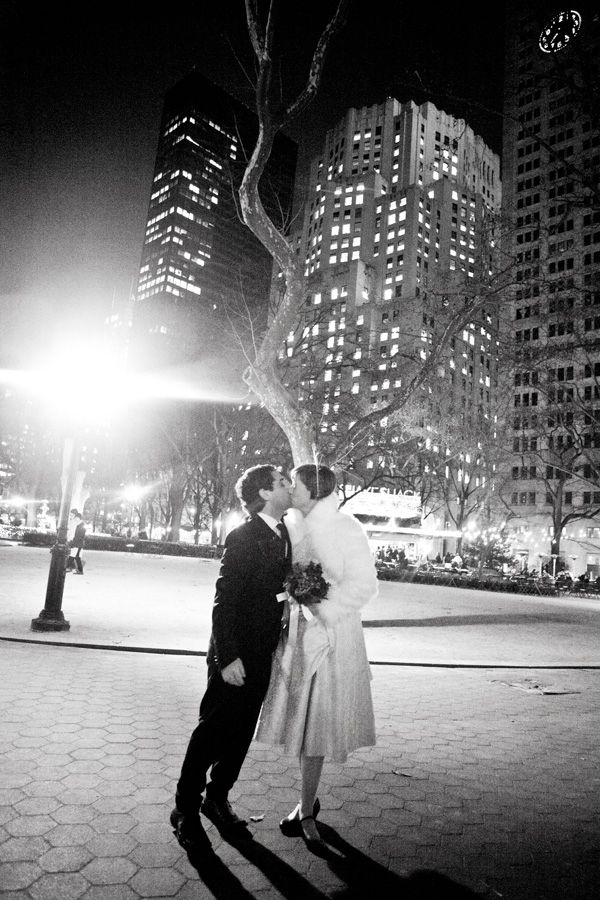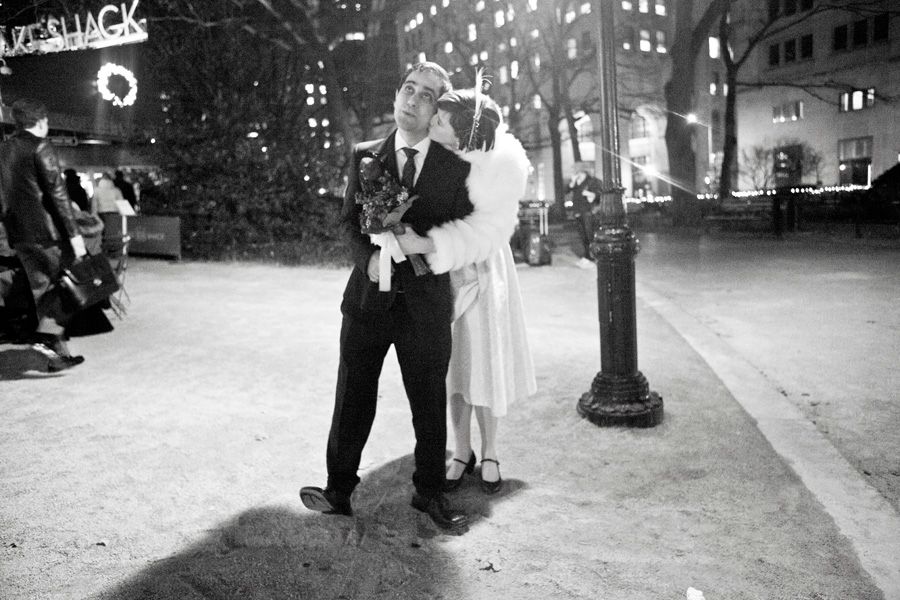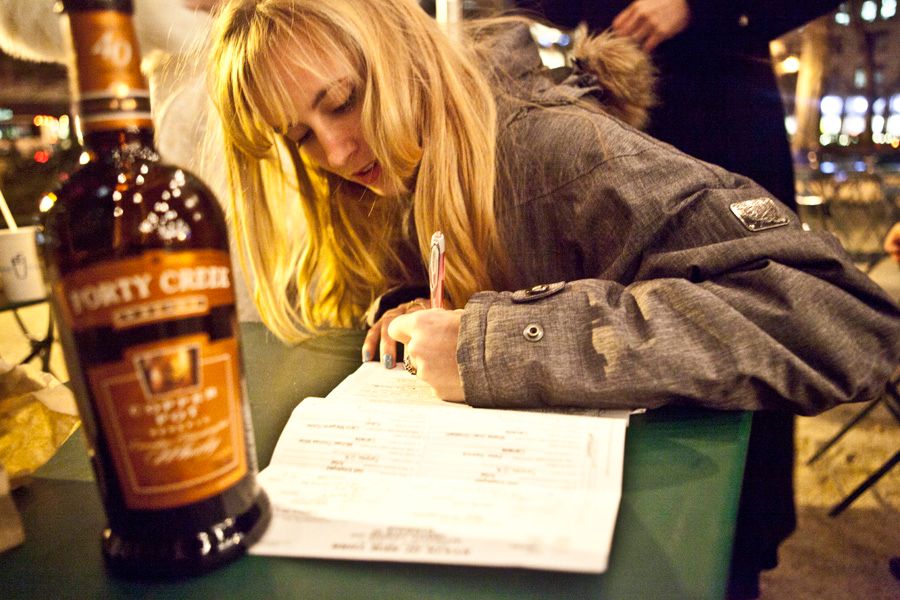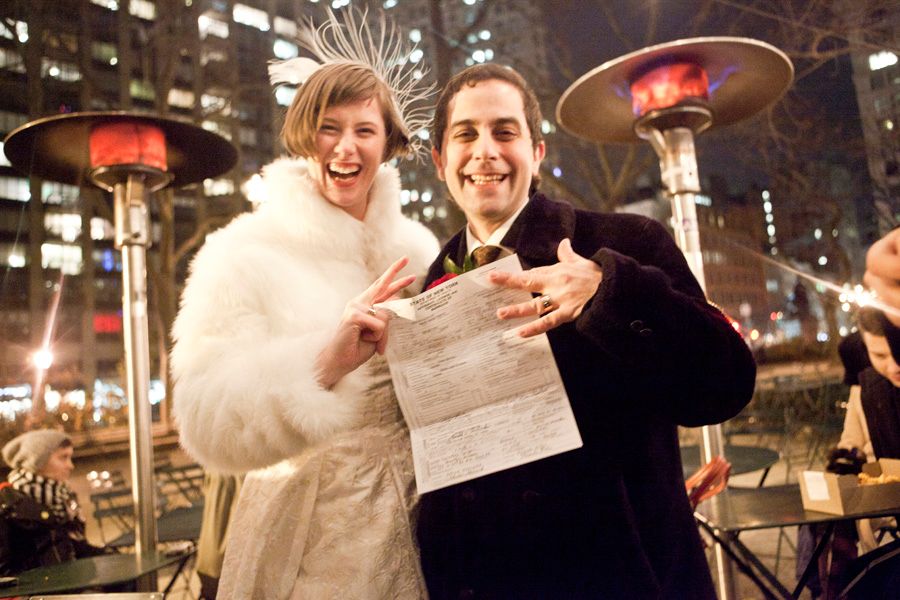 From Marty & Angelique:
The rings were made by an awesome guy named Leif Benner who works out of an area called "The Distillery" in Toronto. He is the same guy who made Angelique's engagement ring. To be honest when I was working out the ring design with Leif, I never considered that there would eventually be a wedding band on board, vying for knuckle space. Luckily, Angelique planned to wear her wedding band on her right hand, so our rings would touch when we hold hands. This meant that we could go with a whole different style. We decided on something more contemporary than the engagement ring. A big, wide, stove pipe, rose gold band with a bunch of little glam, random diamonds for sparkle. I thought that the typically masculine sized band looked pretty bad-ass on Angelique. As rose gold tends to scratch very easily, people often get their rings pre-textured. We opted to have the rings finished smooth and shiny, eventually aquiring their own unique texture through what Leif refferred to as "the life of the ring". The dress and my suit were made by Susan Dicks. We love her too.